Rubynest invited to resolve problems at The Roundhouse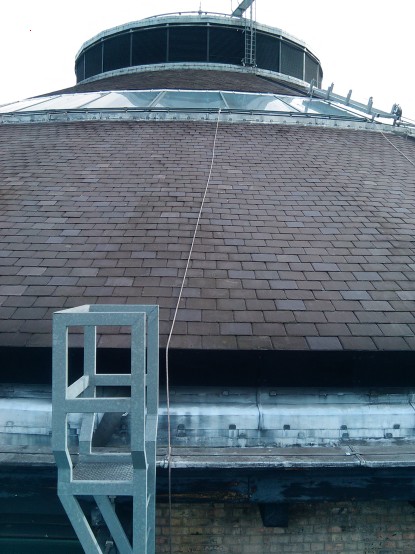 Rubynest were delighted to be called in to assist at the iconic Roundhouse site in Camden North London recently
The Roundhouse is a performing arts and concert venue situated at the Grade II* listed former railway engine shed in Chalk Farm, London, England.
It was originally built in 1847 by the London and North-Western Railway as a roundhouse, a circular building containing a railway turntable, but was only used for this purpose for about a decade. After being used as a warehouse for a number of years, the building fell into disuse just before the Second World War.
It reopened twenty-five years later, in 1964, as a performing arts venue.
The Roundhouse is an unusual piece of industrial heritage architecture which requires ongoing maintenance and work at height activities to keep it in a good order for future generations of artists and the public to enjoy.
We value UK industrial heritage sites and are passionate about playing a key role in assisting and maintaining these venues.
Rubynest Ltd will be conducting various remedial works, new installation and improvements to the existing work at height system to enable all legislation to be complied with and promote safe working practices for all our teams who will be attending site for further maintenance.
It is intended that Rubynest Ltd will now be utilised to conduct the following works once the system has been re fitted and restored.
Ongoing Works - 6 Monthly
To supply the required team of IRATA qualified rope access technicians with competency to conduct 6 monthly visual inspection of work at height assets in accordance with BS6037-2:2004. To supply the same team to undertake the following works:
Sweep clean all gutters and hoppers to The Roundhouse
Water test rain water stacks
Conduct visual inspection of waterproof roof membrane and roofing fabric, report any defects, submit a quote for any repairs
Wash and clean the external surface of glass to the following areas: Roof turret, midlevel and atria rooflight linking new building to The Roundhouse
Wash and clean PV screens on roof on new building
Ongoing Works –Annual
To supply the required IRATA qualified rope access technicians and competent engineer to conduct the full annual load test compliant with BS6037-2:2004 to all work at height assets. Upon completion apply scaff tags with independent ID numbers and submit full load test certification.
The Roundhouse also require a call off service which is not an issue for us to supply, as with 15 mobile units in London every day we are always on hand to help and deliver a service beyond our clients' expectations.
This is an exciting project and one we are proud to be associated with this type of heritage building which is of great importance in London's history.
Posted: 21.11.2017