Window & Façade Cleaning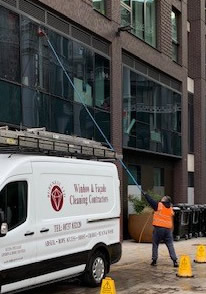 Rubynest undertakes all types of commercial window cleaning, specialising in solving problems in awkward access and difficult safety situations. As window cleaners with many years experience there is rarely a challenge that cannot be solved by our teams!
REACH AND WASH SYSTEMS
This most modern of window clean techniques comprises of deionised water passing through carbon fibre telescopic poles.Windows up to 20 meters (usually the equivalent of six floors) can be cleaned from ground level with no health and safety risks. Historically inaccessible windows are now cleanable. The system precludes the need for expensive high access equipment in many cases and offers the advantage of cleaning frames and fascia panels. No chemicals are required, making this a most environmentally friendly method. Ideal also for many applications including atria, roof lights, skylight and facade cleaning
TRADITIONAL METHODS
A conventional method of window cleaning using squeegees is always used where appropriate to minimise cost and speed up the process. In many cases this method provides an increased ability to deal with fine detail cleaning and produce a first class finish.
HYDRAULIC PLATFORM SYSTEMS
Where Reach and Wash systems cannot be used a hydraulic platform (often known as a "cherry picker") can be utilised. These pieces of equipment can normally clean up to around 60 metres in height.
Rubynest will take care of all the arrangements in terms of hiring and facilitating the use of the equipment at highly competitive rates. We also undertake all arrangements for permits, dispensations and traffic management as required.
CRADLE SYSTEMS (B.M.U)
Where cradle systems are installed we will check and verify the safety of these pieces of equipment prior to use. All company employees would be site specifically trained on the system and we will require current copies of the load test certificates for the B.M.U. Rubynest also provides a full design, supply install and ongoing maintenance programmes for all forms of B.M.U and access systems.
ABSEILING
Rubynest has a number of fully trained and insured abseilers. Each team is led by IRATA 3 foreman who is highly experienced in all aspects of this challenging but highly effective cleaning methodology.
All our staff are fully trained to IRATA (Industrial Rope Access Trade Association) standards and the company vehicles carry a vast array of temporary anchorage solutions offering our clients flexible and instant access to work areas.
FACADE AND CLADDING CLEANING
Rubynest undertake all types of facade and cladding cleaning, using the same access methods as for window cleaning. The company often finds that the cleaning of building facades is overlooked and regular maintenance of these areas can make a significant difference to the overall aesthetic appearance of the property
MOBILE GUTTER VAC
The system is a state of the art, Grippa Tank application and totally self sufficient. We have the capacity to thoroughly clean up to 20 meters high from street level and additional flexibility is offered by the system being operated remotely from our van up to 60 meters away! This service is already proving very popular with our existing customers and new clients alike, please contact us for very competitive quotations.
Ancillary Services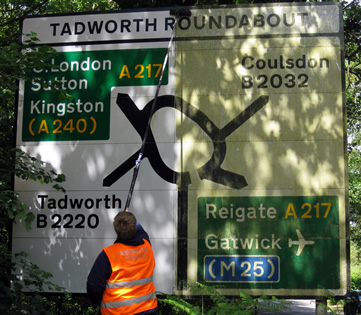 Rubynest offers a range of complementary services to our core activities.
These include the following:
Mastic and silicon repairs and new applications at height.
Gutter and hopper clearance and repairs
Pigeon and other bird proofing solutions.
Spikes and netting installation
Soft building services
External redecoration
External surveying