External Façade Redecoration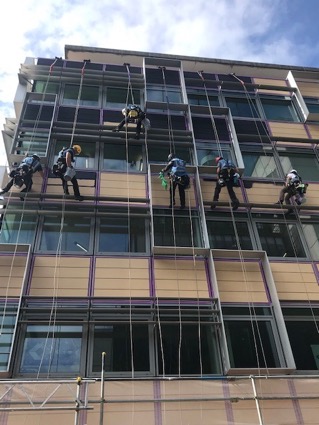 The company has been engaged on a number of landmark London buildings to carry out specialist access and redecoration projects.
We can provide a full turn-key service with our specialist abseil team on-site management. The company works closely within the Keim mineral paints and Crown products. Our application and thorough preparation has been well received by our clients and all our projects have been delivered on time and on budget.
Our IRATA 3 Project Manager and the team, with IRATA 3 team leaders, have acheived the highest standards with accolades received from both Keim and Crown alike. We can provide full principle or subcontractor site delivery as well as providing required access equipment, scaffolding and local authority licences. Enabling our clients a one-stop facility for redecoration requirements.
Mr Lulham will co-ordinate all activities and would be pleased to meet on-site to discuss, plan and propose the works.
Redecoration of Ceramic Terrat Panels at
101 New Cavendish Street, London, W1
Rubynest Ltd were engaged by the client following a recommendation from one of our previous projects.
The clients brief involved refreshing and modernising the external facades to this substantial island site.
The building required deep cleaning initially by use of Torik super-heated steam clean system and the removal of Brie Solaire fixings.
Following these initial works the façade image was refreshed using Keim paint products. Access for all redecoration was undertaken via abseil, working from the companies LOLER Rated Temporary Anchorage Systems.
The project was completed on time and on budget, with the company being congratulated on its management and quality application.